Published 01/11/2014
As successful Pathologist and medical teacher for many years, we caught up with Studio Artist Neela Pushparaj about leaving her practice to become a full time artist, and what inspires her.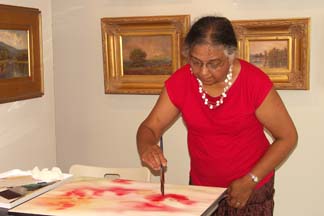 Photo Credit: Linda T. Hubbard, RiverWinds Gallery
What is your earliest memory of an artwork and who was it by?
My earliest memories of "art" are mostly color and needle work projects. It was not until I graduated from Medical School and came to the US that I had opportunities to visit galleries and art shows. The most awesome piece of art to me is the vault of the Sistine chapel. The vision, the skill and the incredible effort of installing it in place brings my puny efforts to naught. Michelangelo's anatomy is flawless and fluid in execution.
What is your favorite time of day to be in your studio?
I never had a formal studio as watercolors are relatively clean and easy to pick up. During my working days as a pathologist, I often woke up around 5 am to paint before leaving for work at 7:45 am. It is now 15 years since I retired from full time hospital work and I paint at least one or two days a week and whenever I feel like it. I am also taking classes in Chinese Brush Painting at the Visual Arts Center in Summit, New Jersey.
Talk us through a day working with Neela Pushparaj. What's your routine?
My painting table and supplies are always set up and ready to go. The work in progress is on the table and I am able to switch on day light corrected studio lights at any time as needed. Sometimes it is only a few strokes as I pause to take a critical look or at other times, I spend my entire day working on a piece of art. When there are deadlines and shows coming up, I toil night and day.
What did you spend your first art-sale pay check on and how did you feel?!
My first sale was to a radiologist friend at the hospital who admired my rendition of a Christmas goose decoration at a window which I had photographed in Santa Fe, New Mexico. I sold it for a pittance and I truly do not remember doing anything memorable with the proceeds.
| | | |
| --- | --- | --- |
|   |   |   |
| Red Peony / Neela Pushparaj / Bridgeman Images |   | Red Carnation / Neela Pushparaj / Bridgeman Images |
After working as a Pathologist for many years, has your medical training influenced the way that you work artistically?
Pathology is a morbid specialty and my paintings are mostly a joyous experience. I think my right brain stubbornly ignores my left one when it comes to my art!
The natural themes in your artwork are very striking. What inspires you to work from nature?
Before going to medical school, I was going to be a splendid horticulturalist. My first love of nature prevails when it comes to my artistic expressions.
Which other artists, dead or alive would you choose to have dinner with?
Along with Mozart, I would like to dine with Van Gogh and watch the drama of spoiled genius and genius with problems!
What brought you to Bridgeman for the licensing of your artwork?
This is a question I still ask myself. I was at an artists informal gathering at the Javits center during the Surtex show, and Lucy Innes-Williams from your London office was talking to an Asian artist. I was shamelessly eavesdropping and decided to approach Lucy. She appeared very impressed with my work and I decided to follow through and submit my work to Bridgeman Studio.
| | | |
| --- | --- | --- |
|   |   |   |
| December Delight / Neela Pushparaj / Bridgeman Images |   | Poppy Parade / Neela Pushparaj / Bridgeman Images |