Published 30/04/2014
Emma Haworth is the newest Bridgeman Studio artist to join our new online platform in April 2014 following an exciting first month post-launch. We are delighted to represent her for copyright administration and licensing.
Emma holds both a Master of Arts in Fine Art & Drawing Practice as well as a BA (Hons) Fine Art . She won the National Open Art Competition in 2010 as well as the Sunday Times Watercolour Competition in the same year. Emma shows with Rebecca Hossack Gallery; her most recent exhibition, 'Spring' was showing until 3rd May 2014.
See all Emma Haworth works available for licensing here.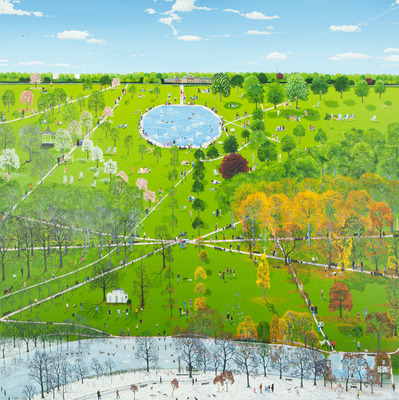 Mapping Hyde Park, 2011 (oil on canvas)
Emma Haworth Interview
Emma has been kind enough to answer some of our questions, which we like to ask, nosily, on a regular basis to our new artists. We want to know what makes her tick, what Emma's inspirations are and what Emma's experience of the art world has been to date;
What is your favourite time of day to be in your studio?
My favourite time of day in the studio is the evening when there are no distractions. If I am working all day, the afternoon is usually the most productive time.
Talk us through a day in the life of Emma Haworth. What's your routine?
My routine is a bit random as I have two small children and I work from my flat. I share the childcare with my husband who is also self employed and my mum helps too which is great.
I work when I can and use my time well. Now I work from home I enjoy working late at night as I don't have to worry about getting home. Usually artist's studios are in industrial estates or big warehouses and you can get scared being the last left in the building. I used to not feel safe leaving my old studio so ended up staying there all night when there were deadlines to meet.
How would you sum up your practice in 5 words?
To sum up my practice in 5 words .....detailed, labour-intensive ( lots of hours of work have gone into each piece), thoughtful, aesthetic.
Detail and process
Seeing your work in real-life really surprised me. How do the collaged elements in your work (Emma attaches drawn people and motifs on top of her paintings) come about? Is it a way of adding depth to a painting or is there another reason behind this method?
I sometimes use collage in my watercolours. I use inks so they are brightly coloured. There is a lot of detail in each painting and so sometimes it works better practically to add the birds and people afterwards so I can work out the narrative in the setting. Things change as you work on a piece and it suits me more than to plan out everything exactly before I start.
I visit the place that I want to paint many times and each time there is of course a different look or atmosphere depending on the weather, time of day season or which animals birds or people are there . I use photographs and sketches to capture special or interesting moments each time that I visit. And in my studio I bring all the elements together trying to make it more timeless or mysterious place.
| | | |
| --- | --- | --- |
| | | |
| Balloon Fiesta, 2013 (oil on linen) detail | Searching for Treasure, 2014 (oil on linen) detail | Ice Skaters, 2014 (w/c & acrylic) detail |
| | | |
Urban landscapes
Your works often seem rooted in real-life, but with foreign elements added to them. This creates an almost mythical or mysterious, otherworldly quality to what at first glance, is a traditional landscape painting. How do you create these worlds?
The paintings in my last show had children and birds sometimes in pencil. I had been reading books about children and magical Gardens ('Goodnight Mister Tom' and 'The Secret Garden') . In both cases children from different eras came back to play in the gardens like ghosts. I like the fact that some of the trees and parks are hundreds of years old and have seen many animals and people come and go and enjoy the spaces. I was trying to show that in the paintings.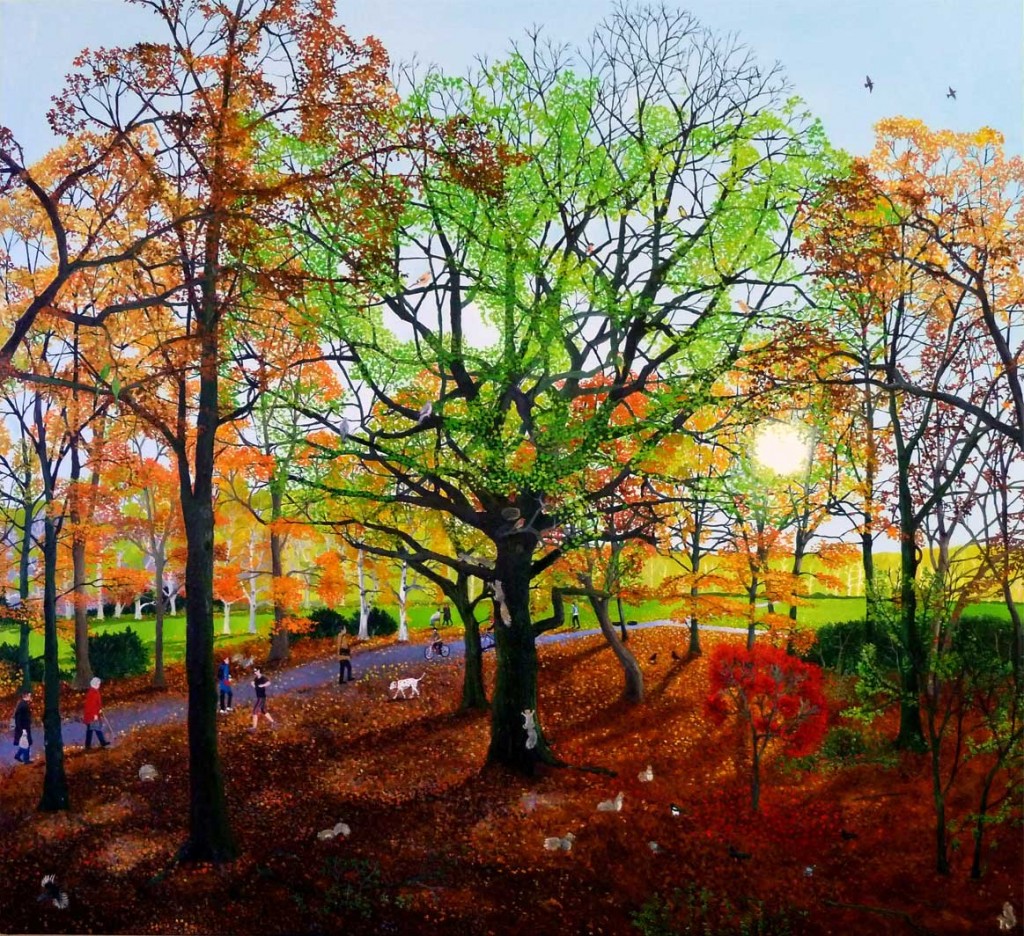 Autumn Squirrels,2013 (oil on linen)
Commissioned work
What has been your most exciting commission to date?
I once did a commission from someone's box in Arsenal's Emirates Stadium. That was exciting as I don't go to see football much. I am doing a commission at the moment for Macmillan Cancer Support which is a two 2 metre long watercolour. This is a challenge as I have to do it on the floor and as it is very detailed and I am paranoid about damaging the part I have painted whilst working on another part.
I have it all covered with books. I want there to be lots going on as people will have to spend long periods of time in the waiting room and I want them to have something that will be interesting and engaging to look at.
Inspiration
Working indoors or outdoors?
Outdoors more than Indoors, I love the privacy of my studio.
Drawing or painting?
Painting is more exciting.
Which other artists, dead or alive would you choose to have dinner with?
I would love to meet David Hockney. I think he is brilliant. I love his work and I think how he talks and explains about art and painting is better than anyone.
| | |
| --- | --- |
| | |
| Yellow (oil on linen) | White, 2010 (oil on canvas) |