Island rhythms and colorful city scenes get us in the mood for Spring
We are thrilled that long-standing Bridgeman artist, Colin Bootman is now part of Bridgeman Studio!
An artist, illustrator, and arts educator, Colin Bootman's work is internationally recognized and has received numerous, highly acclaimed awards in recent years, including a Coretta Scott King Honor and an IRA Teacher's Choice Award among others.

Colin Bootman in his studio.

From Trinidad to New York City

A Trinidad native, Colin Bootman moved to New York as a child and received formal training at LaGuardia High School of the Arts. At a young age, Bootman was inspired by both the rich and diverse culture of the island of his native home and his adjustment to new surroundings in New York City. Today, he still enjoys teaching and presenting in schools in New York and across the US.

Images in Action

Colin Bootman is most recognized for his work in children's illustration. His first book, Young Frederick Douglass, was published in 1994, and since, his illustrations have bought to life more than 25 beloved children's books such as Grandma's Pride, In Momma's Kitchen and Hey Charleston.
| | |
| --- | --- |
| Cover illustration for Hey Charleston, The True Story of The Jenkins Orphanage Band, by Anne Rockwell / Colin Bootman / www.colinbootman.net | Cover illustration for Grandma's Pride, by Becky Birtha / Colin Bootman / www.colinbootman.net |

What is your earliest memory of an artwork and who was it by?
My first memory of an artwork was a drawing done by my father; he was an artist himself at a young age. The drawing was of people running from a hurricane in Trinidad. I remember it was the first time I really paid attention to a piece of art.

What is your favourite time of day to be in your studio?
Early mornings. I tend to get a lot done in the morning. I do a lot of work using oil paints and enjoy painting in the sunlight.

Talk us through a day in the life of Colin Bootman. What's your routine?
Typically I work from home: painting, sketching, researching and conceptualising. I do a lot of work on picture books, and when doing these illustrations I spend time reading the manuscript and searching for motifs within the writing. If it's a biographical piece, I research the history to ensure accuracy in my drawings. From this, I set up photo shoots to act as a visual reference when compiling thumbnail sketches to send to the editor.

How would you sum up your practice in 3 words?
Passion, process, productivity.

What did you spend your first art-sale pay check on and how did you feel?
I used my first professional pay check as a down payment on an apartment I was renting in the Bronx, New York. I was in the military for many years and when I left, I was still living at home with my parents. I was lucky enough to land a job with an agency in New York, working on a textbook assignment. I felt free to do my own thing in my own space.

You bring so much life to characters with your illustrations. Where do you start when illustrating a new project?
When illustrating a character I start thinking about folks I know, like family members, friends, and people I have worked with in schools. I look for someone that works for the character. Kids are hard: you have to excite them about the project, get them to understand why you're drawing them. Once they know that the images are for a book that's being printed, they really like the idea.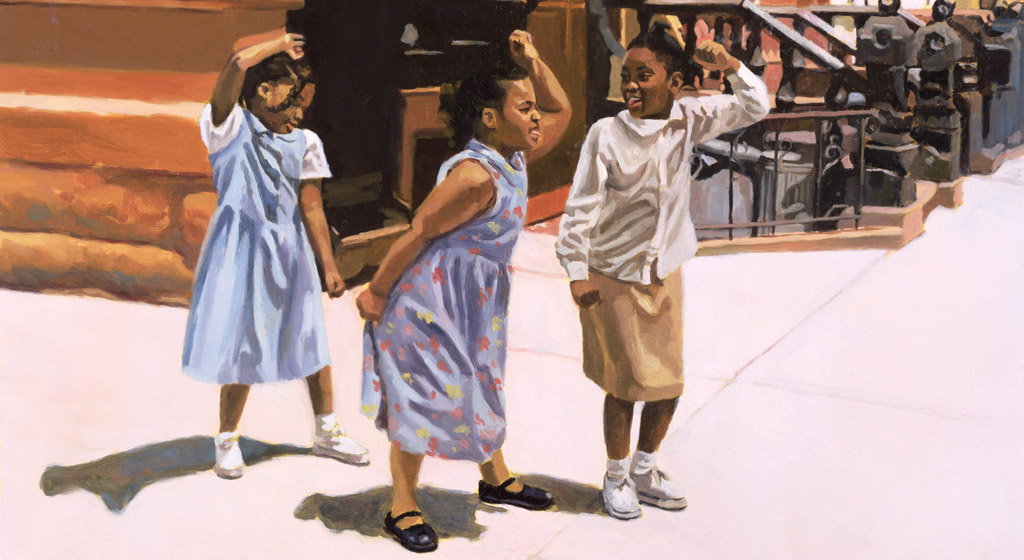 Harlem Jig, 2001 (oil on board), ColinBootman/ Private Collection
Is there a friend or family member you draw on for inspiration in your work?
My close friend, Anthony Jones. He has worked as an actor and I have used him many times for many books.

Which other artists, dead or alive, would you choose to have dinner with?
I would love to meet either Frank Rosetta or Norman Rockwell. They have both had huge influences on my own work. Rosetta passed away a few years ago. I remember as a student at La Guardia High School in New York, everyone worshiped him and his drawings of fantasy, and I was no different. In my opinion, you can't get any better than Norman Rockwell when it comes to realistic illustration.

What brought you to Bridgeman for the licensing of your artwork?
I was in an art show in New York some years back and got talking to a woman there about ways to market my work. I explained to her that I had been selling my illustrations, but had not done much to promote my fine art work. She suggested to me that I contact Bridgeman and she gave me the number for the New York office. I set up an appointment and the rest is history.

See all of Colin Bootman's images available for licensing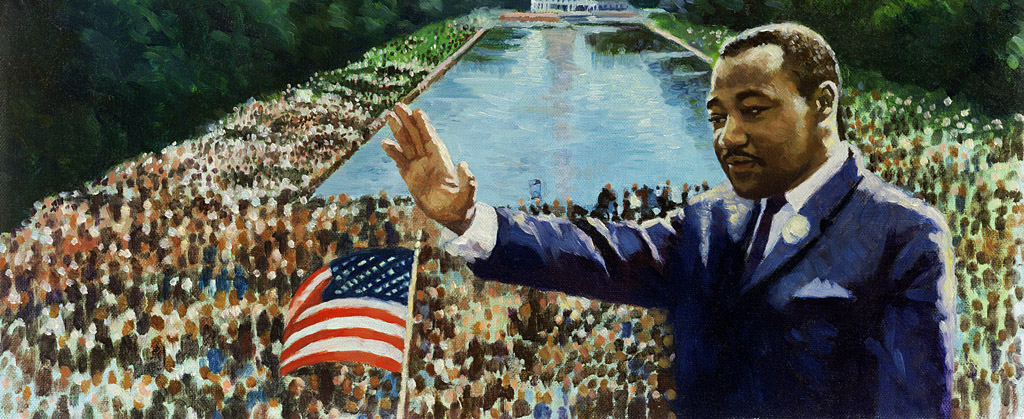 The Memorial Speech, 2001 (oil on canvas), Colin Bootman/ Private Collection